Five Below is an American chain store well-known for selling items at an awesome discount, which is exactly how they attract customers across the country. Considering more and more people are starting to use convenient and secure payment methods like Apple Pay, one of the most reasonable questions that come up is whether Five Below take Apple Pay.
So, does Five Below take Apple Pay? Five Below accepts Apple Pay as one of the payment methods, meaning their shoppers can have secure and safe payments, no matter if they are in-store or online. For online purchases, customers can use this method on several devices, including Smartphones, Tablets, and Desktops/PCs.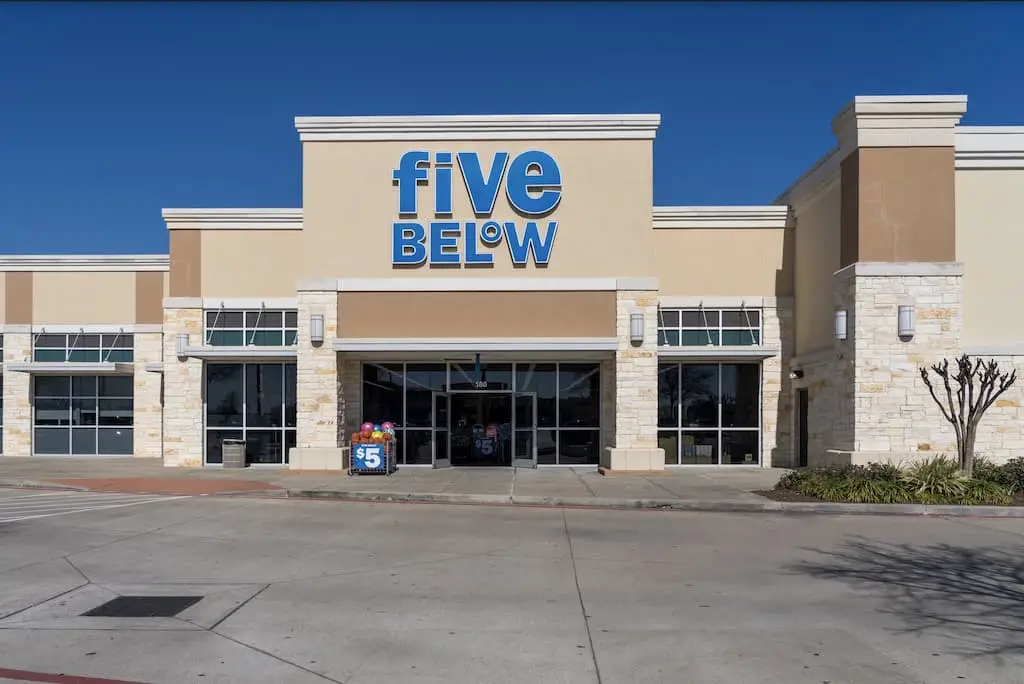 If there is more information you wish to find out about Five Below and using Apple Pay at its stores, continue reading. I've found some facts you should be aware of.
Does Five Below Take Apple Pay?
If you're familiar with the discount franchise, then you've definitely been at one of the Five Below stores. This store chain got its name precisely because you can find many different items priced five dollars or less here.
With that in mind, it's not surprising that it quickly became a popular place. However, we also know that millions of shoppers across the US use Apple Pay. And the reasons are numerous: efficiency, security, and convenience are just some of them. 
Due to its increasing popularity, many Five Below shoppers started to wonder whether they could use Apple Pay for online and in-store purchases. If you're in the same boat, you can relax, as the retailer does accept it.
However, you should know that not all cards will be eligible. That being said, you should use either MasterCard, VISA, or American Express when purchasing Five Below with Apple Pay. 
What Payment Forms Aren't Accepted at Five Below?
As you could already imagine, not all payment methods are available or accepted at Five Below. You should be aware of these facts since otherwise, you can find yourself in an uncomfortable situation. So, check the following list and keep it in mind when preparing for some shopping time in Five Below:
International Credit Cards,
Personal Checks,
Cashier's Checks,
Purchase Orders,
Money Orders,
EBT Cards.
What Is the Best Way to Use Apple Pay for an In-Store Purchase?
Depending on your preferences, you can use Apple Pay with our iPhone or Apple Watch. Both ways are efficient and contactless, and what's most important, they are available at Five Below.
So, if you are prepared to use an iPhone, you should use the default card and authenticate it with a set passcode for Apple Wallet. Then ensure the iPhone is near enough to the contactless reader in the physical store. You'll know you're done when you see a checkmark on your display. 
The process is pretty much the same when it comes to paying with an Apple Watch at a store. By double-clicking the Apple Watch's side button, you'll access the default card automatically.
If you want to use another card, just scroll down. After that, you have to bring the watch's display near the reader as you did with the iPhone. But, this time, you'll be advised about the transaction with a beep and light tap. 
Check Other In-Store Payment Methods
When you know how the Apple Pay is used in physical stores, whether having an iPhone or Apple Watch, let's check other accepted payments in Five Below stores:
Debit or credit cards – MasterCard, Discover, VISA, and American Express,
Venmo,
PayPal,
Cash,
Five Below gift cards – e-gift cards or plastic cards,
Gift cards – MasterCard, VISA, and AMEX Gift Cards.
How to Use Apple Pay for Online Purchases?
One of the biggest benefits Apple users and Five Below shoppers have in common is that they can purchase without a fuss online too. It's enough to use a Safari browser or app. So, when checking out online, choose the Apple Pay and payment method on your iPhone screen. Proceed with completing the order by providing the needed information about shipping. 
After your order is completed, the app or website will switch you directly to Apple Pay (website or app, depending on what option you picked the step before), where you can complete the order and payment. After you know how online purchases work, check what other payment methods are available for online purchases at Five Below.
| | |
| --- | --- |
| Laptop/Desktop via a web browser | Smartphone, App, and Tablet |
| PayPal | GooglePay  |
| GooglePay | PayPal |
| Gift cards | VISA, Discover, MasterCard, American Express  |
| MasterCard, VISA, American Express, and Discover | |
Can All Articles Be Purchased With Apple Pay at Five Below?
If you've already met the amazing assortment Five Below has, then it's completely normal to wonder whether you can use your Apple Pay for each and every article you find. With a wide range of all sorts of items they are selling, from simple electronics, school supplies, sporting equipment, cosmetics, clothes, and more, it can be quite handy to make a purchase with just your iPhone or Apple Watch. 
And the good news is that there are no limitations – buy as much and whatever you like at Five Below with Apple Pay. Most importantly, it doesn't matter whether it is an online or in-store purchase, as there won't be additional fees either way. 
Does Five Below Accept Other Mobile Payment Methods? 
Being so popular, no wonder why Five Below accepts other mobile payments, like Google Pay and Apple Pay. So, yes, you can use Google Pay to make purchases in numerous stores across the US.
Shop without worrying about whether you have enough money or the right credit card in your wallet. Five Below ensured their customers felt comfortable with more than just one mobile payment option. That being said, check in the table below what other contactless payment forms Five Below accepts.
| | |
| --- | --- |
| Google Pay | ✓ |
| Amazon Pay | x |
| PayPal | ✓ |
| Shop Pay | x |
| Alipay | x |
| Debit and prepaid cards | ✓ |
| Cryptocurrency payments | x |
Pay Effortlessly With Your iPhone at Five Below Stores
With contactless payments becoming more popular over the years, no wonder why many shoppers are considering using Apple Pay. Not only is it convenient for Apple users, but it's also a secure way to make a purchase. In fact, no credit or debit card information has to be inputted when purchasing with Apple Pay.
So, when you set your Apple Wallet, you won't have to worry about having enough cash and the right cards in your pocket for some shopping at Five Below.